Dr. Pittman Moore is a board-certified gynecologist skilled to treat gynecological conditions from his private practice, ReGynerate by Moore Surgical Arts & Gynecology, in Little Rock and Clarksville, AR. Dr. Moore believes that sexual health issues are quality of life issues, and aims to help area women take back their sexuality by helping them attain excellent overall health and happiness. Currently, in collaboration with Legacy Surgery Center, Dr. Moore is the only physician in the United States who can offer conventional laparoscopy utilizing 3D vision in an ambulatory surgery center. He offers minimally invasive techniques to treat uterine bleeding, pelvic organ prolapse, pelvic pain, endometriosis, and urinary incontinence. Dr. Moore is an Arkansas native who enjoys the great outdoors, giving back, and helping others.
Though Dr. Moore is experienced in a profound number of surgical and nonsurgical procedures, he is especially skilled at performing laparoscopic hysterectomy via conventional laparoscopic approach or the da Vinci Robotic technique. Dr. Moore currently specializes in laparoscopic pelvic floor repair, incontinence surgery, laser vaginal rejuvenation, and bioidentical hormone therapy. Dr. Moore is a member of the American Institute of Minimally Invasive Surgery 300 Club, which has the top 300 gynecologic laparoscopic surgeons in the country. In addition, Dr. Moore is the only gynecologist in Arkansas that offers a conventional 3D laparoscopic approach for the treatment of pelvic organ prolapse and heavy menstrual bleeding.
Dr. Moore also has a very keen interest in cosmetic surgery and the advantages it can offer all female patients. Over the years he has practiced liposuction techniques, abdominoplasty, and cosmetic vaginal surgery. More recently, he has focused that interest and his attention solely on cosmetic vaginal procedures, and it is from this interest that ReGynerate by Moore Surgical Arts & Gynecology was created.
Dr. Moore received his Bachelor of Science in microbiology from the University of Arkansas at Fayetteville. He then went on to attend the University of Arkansas for medical sciences where he received his medical degree, and completed a residency in obstetrics and gynecology from that same institution.
Memberships and Associations
American Board of Obstetrics & Gynecology
Fellow, American College of Obstetrics & Gynecology
American Urogynecology Society
American Academy of Gyn Laparoscopists
American Institute of Minimally Invasive Surgery
American College of Cosmetic Surgery
International Academy of Pelvic Surgery
Should you elect for (or your condition warrant) a surgical procedure, Dr. Moore is held in high regard by area hospitals and holds surgical privilege at the following facilities:
Johnson Regional Medical Center – Clarksville, AR
Legacy Surgery Center – Little Rock, AR
Dr. Moore was recently featured in an article written by Zoe Dunning of the resident business beat. Click below to learn more.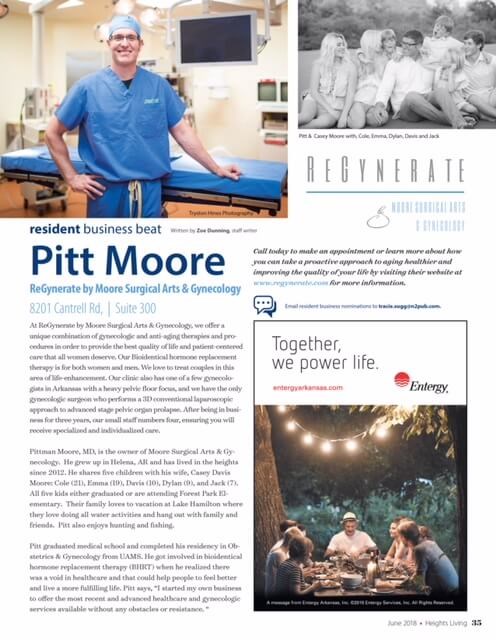 Privileges